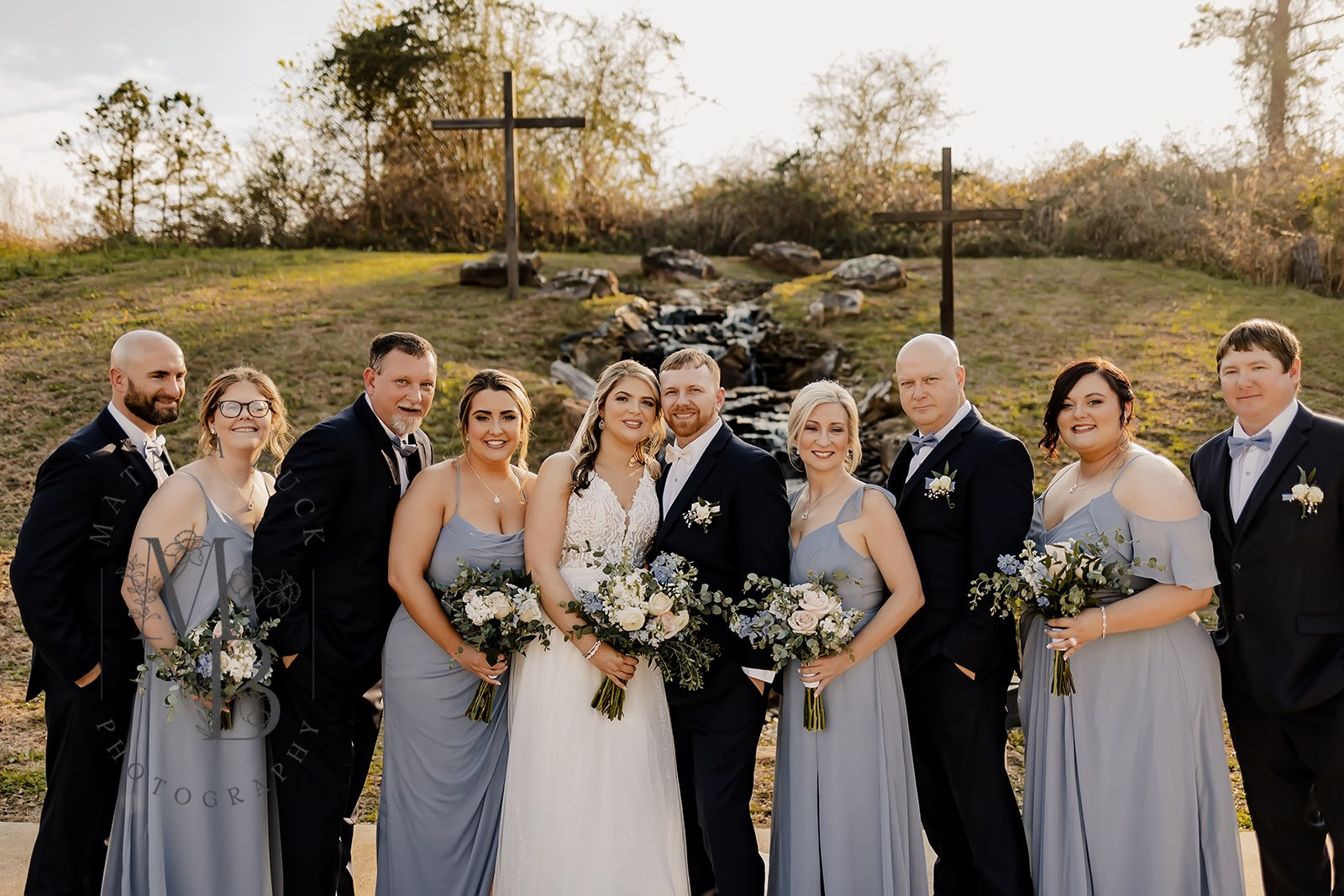 Check out our pricing page for complete package details.
Are there any hidden fees or costs after I sign the contract?
Absolutely not! The only additional fees you would incur is if you choose to add extras or á la carte services.
Are table and chairs included?
Yes, tables and chairs are included with each rental.
Do you have dedicated spaces for the wedding party to get ready?
Absolutely! The spacious and beautiful Bridal Suite includes extra mirrors, individual vanity stations, couches, and a private restroom. The Groom's Room includes a TV, ping pong table, couches, and coming soon gaming station.
Is Hidden Falls handicap accessible?
Yes, our property is handicap accesible.
What are your catering policies?
We prefer you to use our in-house catering company. You will need approval to use another caterer. Full-service staffing is required until the close of food service, no drop-off catering permitted.
Can I bring in my own alcohol?
Hidden Falls does not provide or sell any alcohol. You are free to bring in your own alcohol to serve to your guests, but you will also be required to hire a bartender from our Vendor List to serve any and all alcohol. You can only have wine, beer, mocktails, and champagne - NO LIQUOR ALLOWED!
Do you require a wedding planner or coordinator?
We do not require a wedding planner, but we do require a ``Day-of Team Member`` to help manage/run your timeline. We can also provide full-service planning if desired.
Do you have sound and A/V equipment?
Not at this time. It is recommended that you hire a professional DJ and/or musician to provide music and MCing during your special event. We recommend that you provide playlists, too.
Our guests are from out of town. Where should they stay?
Hampton Inn - Atmore and Wind Creek - Atmore are both wonderful choices nearby.
Is smoking allowed on property?
Smoking is ONLY permitted in the designated areas of the property. However, smoking of any kind, including vaping, is PROHIBITED inside any of the buildings, rooms, etc. or on any porch areas.
Setup
and
Day-of-Event
Questions
How many hours will we have access to the venue?
You will have exclusive use of the venue from 8 am to 11 pm. At 9pm, the bar and music must be turned off, and clean-up must be completed by 11 pm.
Can I hold my rehearsal at Hidden Falls?
Based on availability, you can request extra hours and host the rehearsal and rehearsal dinner, as an add-on.
Do you have a designated parking lot?
Yes, we have plenty of parking available. On the day of your event, we provide a parking attendant to assist with the process; a golf cart shuttle will be available if needed.
Does Hidden Falls provide WIFI access?
WIFI access for guests will be coming soon.
Is fishing or swimming allowed in the pond?
Neither fishing or swimming is allowed in the pond.